The Relay for Life started in America in the 1980's and last year Donegal held it's first one. The events which are now global involve a 24 hour walking relay for which people raise funds in support of the fight against cancer.
This is a great way to celebrate the lives of those who have battled against cancer, remember those who have lost their fight against cancer and those who are fighting cancer.
Last year I was asked by a work colleague to help out at this event and I didn't hesitate to say yes because we all know someone who has been affected in some way by this illness and it's good to give something back no matter how small.
You can check out the website
here
and there is some video footage from last years hugely successful event.
In 2008 my mother was diagnosed with cancer. I will never forget that day when my father phoned me to tell me the news. I felt like someone had ripped my heart out of my chest and if he had told me she had died I couldn't have felt grief like it, it sounds silly now that I'm writing it but I can't think of any other way to explain it.
It makes you see life from a whole different perspective and appreciate what you have so much more.
Thankfully my mother survived and is doing well.
This year again I will be dedicating some time over Saturday and Sunday to help out at this inspiring event.
One thing that sticks out in my mind from last year was the overwhelming support and the amount of people who were wearing purple t-shirts were all survivors of cancer, it was staggering, all ages from children right up to elderly.
One of the highlights of the Relay for Life event is the Candle of Hope ceremony which will take place on Saturday night.
This is where people who have been affected by cancer and those who have lost their battle with cancer are honoured. The candles are lit and each one bears the name of a person touched by cancer and a lap of silence is completed to remember and take time to reflect.
You can see last years ceremony
here
and I think you will agree that it is deeply moving.
So yesterday I received an email notification that Suzanne from
3 Children and It
is hosting a blog hop in support of Emma from
Crazy with Twins
who is in hospital and undergoing cancer treatment.
The timing of this post is appropriate because I was putting it on my blog today. Whilst I don't know Emma but I read her blog I have bought a candle especially for her and it will be lit in her honour tomorrow night and the Candle of Hope ceremony.
I will be keeping her in my thoughts and wishing her a speedy recovery back to her family.
She is an inspiration to all of us.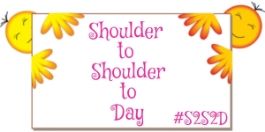 - See more at: http://www.3childrenandit.com/2013/05/for-emma-s2s2d.html#sthash.6ESyZSoh.dpuf